Fantastic to see some more new faces prompting great discussion! We had some great discussions in this session.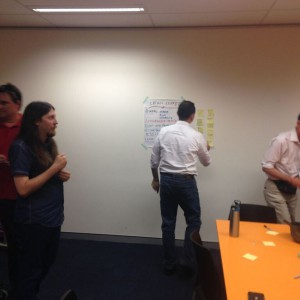 How do you plan for innovation time?

Different types of innovation.
Give space – yes you can plan!
Different levels of innovation – top, middle, bottom.
Strategic innovation.
Innovation with exciter, kano.
Does innovation need vision?

How do you manage tech debt?

Attach value to tech debt.
Strategic failures to cause hardening.
Stabilisation sprints.
Utilising metrics: bugs, cyclomatic, automation.
Portfolio management

Can government be agile?

The world is faster – we need to be agile.
Not everything needs to be agile.
You need to break the breucacy rules.
Where are the government people?
If business can do it, why not government?

Are estimates worth it?

Business development needs estimates.
Runway needs estimates.
Estimation causes learning loop.
Utilising an estimation team.
#valueclash
Estimation causes a conversation.
#noestimate – Decompose to a standard size.

How do you get a team to actually be a team?
How do you transition to Agile from Waterfall during a project?
Agile marketing. What is it? How does it work?
How to 'do' or coordinate Agile for an initiative that involves teams from several organisations?
How to manage non-squad word?
Feedback:
Where's the coffee?
Lovely session.