The new session time of 5:30-6:30 seems to be working fine. The Lean Coffee crew might try some other meeting times and durations, let's see what our A/B testing turns up. 🙂
Our proposed topics this week are below. The topics in bold were actually discussed. We also took notes this session, we hope you find this useful.
What I learned by reading Elon Musk biography last week

Book – Elon Musk biography
Book – Extreme Project Management

How to handle slipping commitments/Ensuring team sticks to deadlines… managing excuses

Book – Anti Fragile
Book – Promise Theory by Burgess
Reference – Cone of uncertainty

Agile feature development for existing products

Reference – XKCD cartoon on problems and their frequency
Book – How to Create Agile Teams

How to get proposed sessions into conferences

Make them – controversial, resonate, personal, stories, focused
Proposed session – the story of a perfect scrum master
Top 10 agile questions you were afraid to ask

What do you consider to be good culture?
Automated testing and deployment
What is the history of the term "agile"?
Building and proving a new feature at minimum cost
Lean opportunity discovery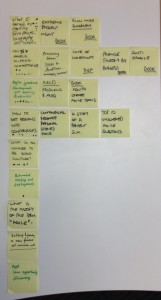 Our retro feedback is below:
Great, thank you, my first lean coffee, fun.
Notes on the wall help with remembering what was discussed.
I really value interacting with other people with experience and lots of different perspectives.
Interesting talks.
Enjoyed it. Could have been twice as long and would still have stuff to talk about.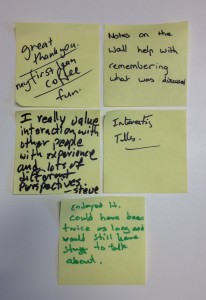 Any feedback about the blog is also welcome. See you next time!