Another great Lean Coffee session was had by all. We changed the time slightly this week, we went from 5:30-6:30 (instead of 6-7). That seemed to work pretty well. The Lean Coffee crew is experimenting with times so let's see what we do for the next session. Anyways, we had a great time. Come join us!
The proposed topics, in priority order are below. The topics we discussed are in bold:
Define a dream team in agile
How do you build culture?
Governing the commons, e.g. open source software
How do you ease out an agile consultant in your org?
How do you reduce resentment towards senior leadership during an agile transformation?
How do we raise excitement for our products internally?
Funding infrastructure
What are looking for from this group?
Agile ceremonies, more vs. less. What is the right balance?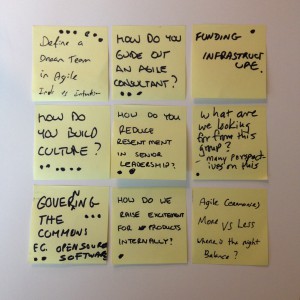 Notes that I casually took during the session:
"A team of champions doesn't beat a champion team."
Retrospective notes:
I like 5:30 to 6:30, good discussion, the right mix of people!

Useful.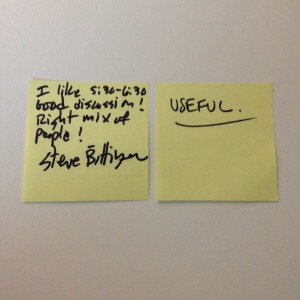 Thanks to everyone who participated! We will see you in 2 weeks…
Lean Coffee Canberra