We had our first #LeanCoffee session on Monday Dec. 7. Once again, we are grateful to Rory Ford and Entry 29 for providing a meeting space. A great time was had by all!
The first #LeanCoffee posse is below. A good lookin' crowd.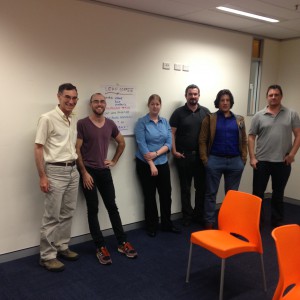 Here are the topics we discussed, in priority order of course!
What does "Lean" mean to you?
How do you grow community? (the facilitator accidentally skipped this so we didn't actually discuss this topic. Doh!)
How do you convince reluctant people to adopt agile?
Is DevOps the next trend? Is Scrum dead?
How do we leverage today's Prime Minister innovation statement?
This is a photo of the actual topics. Note the dots, we use dot voting for crowd-sourced prioritization: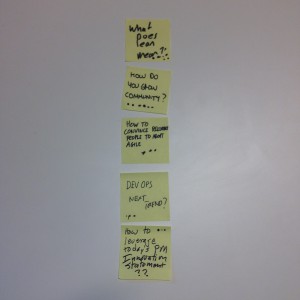 At the end of the session we solicited retrospective feedback, here it is.
Start session earlier
Keep the beer cold
We need bigger cards to write on during the session
Promote Lean Coffee more and grow the community
Can we have a "Further Reading Material" list maintained during the session?
Start earlier! How about doing the sessions in the morning?
I liked the scheduled day and time of the sessions, that works for me
Good facilitation and nice discussions!
Let's supplement the face-to-face sessions with digital interaction, e.g. e-mail, Facebook, etc.
A photo of the retro feedback: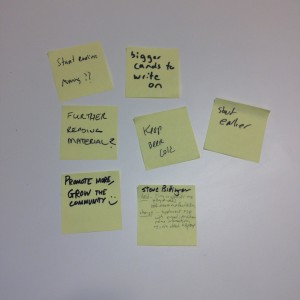 The #LeanCoffee team has an internal retro next Monday. We might be slightly updating the format for the next session on Monday Dec. 21. Come join us and get into the #agilefun !
The Lean Coffee Team