Well, we had our first Lean Coffee session in a pub! Thanks to P.J. O'Reilly's in the CBD for hosting us. As a result of beer quaffing we actually ended up going past our 1 hour timebox to 1.5 hours. Beer makes everything better! Please note that our next Lean Coffee is in the Civic Pub in Braddon, we have the table down near the fireplace reserved. The topics the last session were:
What to look for in a co-founder?
How/where do you find good co-founders?
The Stanford class on startups
How do you determine the length & cost of a project up front?
Buy another round of beers!
What info do the devs want? Bridging the user story to requirement gap.
Dormant products – can Lean Startup help?
[Anonymous Lean Coffee Attendee] – How's the agile transformation?
Assessing source code during development, yay or nay? Who knows Java here?
Autistic Kanban?
The bold topics above were actually discussed, and of course they are in priority order. Because of the beer drinking and the good times we managed to talk about almost every topic proposed.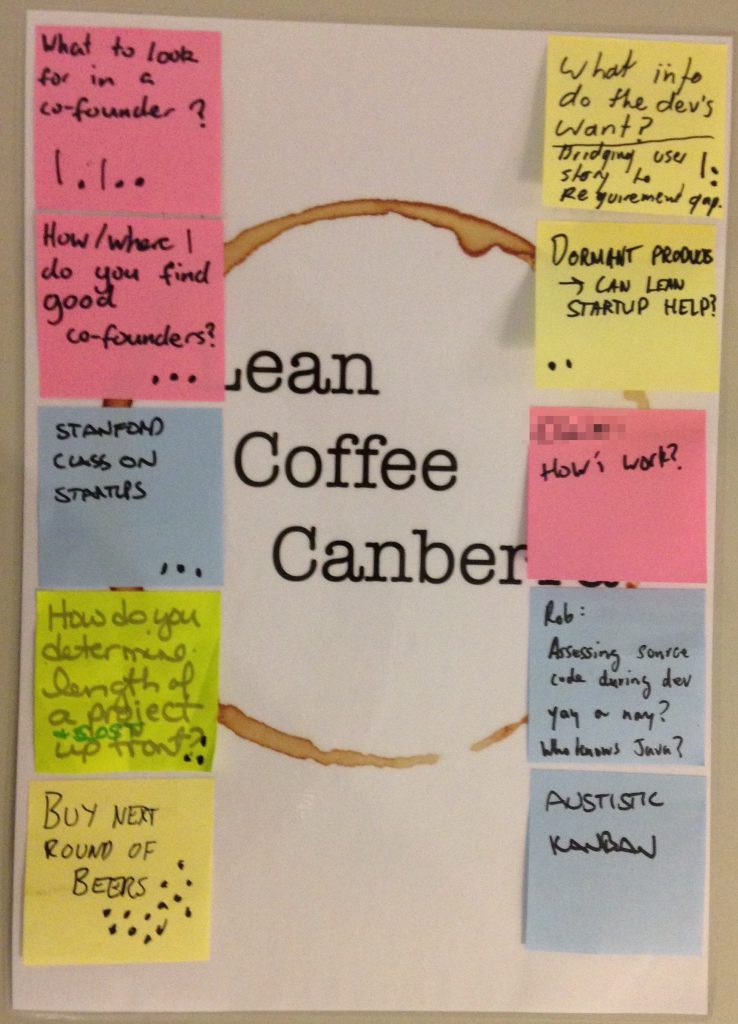 We hope to see you next time, remember that our next session is in the Civic Pub.
And thanks to Daniel Burke for hooking our WordPress site up to Meetup, now you can see the Meetup events on this site. Yay!
See you next time…