A very very nice set of topics were brought up and discussed this session:
What potential problems could there be practicing Lean Startup-like ideas in an established environment?

Design Thinking, e.g. Nordstrom
Deutsch Telekom case study
Lean Startup classes here at E29 and CBRIN
Enterprise Immune System, EIS
Experienced startup peeps might use Lean Startup

Team updating boards (without constant reminding)

If you don't move a ticket then you get to do a daily email report
Bring it up in retro
Make people accountable

What is pair programming? How do you do it?

The effect from a best practice, it's a forcing function to create readable code
It's a cultural shift and requires comparable personalities
Book by Crosby, "Quality is Free"
The bug curve
1 terminal with many devs
Productivity is visible
1 dev writes, 1 dev talks
Just plain ol' pairing, not just devs
Quality
Knowledge transfer

Should a Scoutmaster care about what the team builds?

Is the Scrummaster as Project Manager?
Get the interested people involved

Who handles a team member who doesn't wasn't to agile?
Can you cancel a sprint?
Collaboration tools
Refactor or rewrite
Lean Coffee should involve actual coffee (or beer)
The topics in bold were discussed and the notes are included above for your reference.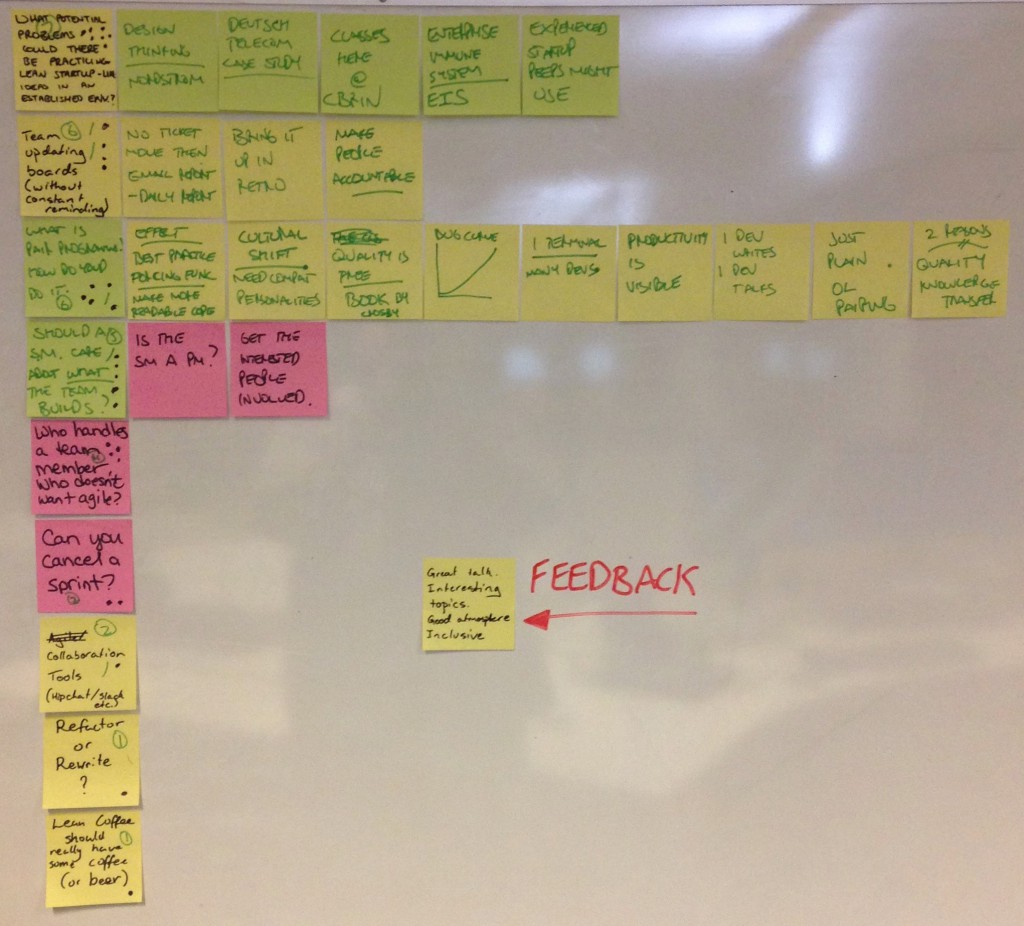 Plus we got nice feedback – Great talks. Interesting topics. Good atmosphere, inclusive.
Thanks! Well, see you next time…