Maintaining a blog is hard work! This is a catch-up post so you can explore what we have been talking about in our sessions. In this session, we had these topics proposed:
Where to start a startup?

Lean Startup + Lean Thinking – Steve, our guru provided a diagram
Starting with an idea is the wrong way to do it!

Any suggestions for funding proposals to bid for $1.5 million in innovation/capability/development up for grabs by ACT government?

Innovation with kids
PR/marketing
Google fiber project

How do you do continuous demos?
How do you decide which bits of Scrum you actually need?

Can you really pick and choose?
You need to examine motivations

Are interns/students worth it?

Integrate carefully
Do you pay for it?
They need supervision
Plan for it

Kanban at home
Lean UX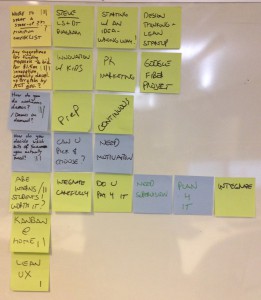 The topics we actually discussed are in bold, plus the associated notes that go along with the topics. Another great session!