More great discussion this week on a variety of topics. We're looking for ideas to get more people involved – feedback is welcome!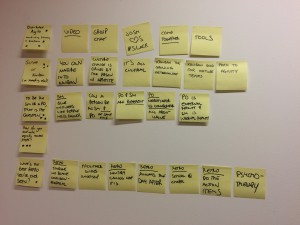 Distributed Agile – coordinating remote locations

Video
Group chat
Josh <3's #slack
Come together
Tools

Scrum or Kanban (or something else?)

You can mature into Kanban
Culture change is driven by the person with appetite
It's all cultural
Kanban the growing methodology
Kanban good for mature teams
Path to agility

To be a Scrum Master or a Product Owner, that is the question

Glue motivates like people, helps deliver
Can a persona be an SM & a PO at the same time?
PO & SM are different
PO: negotiator vs collaborator. All about value
PO is external reality & SM is internal reality

How do you motivate equally ranked people?
What's the best retro you've ever seen?

Timeline, no blame, conclusion – proposal
Facilitator gives ownership
Military calling it like it is
Always the day after
School @ Chapel
Do the action items
Psychotherapy

How do you keep morale up during an extremely busy period?
How do you type 'agile' people?
How can we attract more people to this group?
How many layers do you need between business interests and product decisions?